Encounter Lent as a Family
A Lenten Guide for YOUR Family: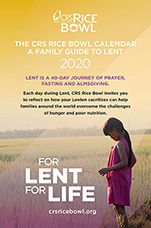 Celebrate the Lenten traditions of prayer, fasting, and almsgiving with your family using CRS Rice Bowl
Order a free CRS Rice Bowl with interactive Lenten calendar
Follow the daily activities and reflections
Prepare simple meatless meals each Friday
Put your Lenten sacrifices into your CRS Rice Bowl
Send your Lenten gifts to CRS and make a difference in the lives of people around the world
Use online or order a single, free CRS Rice Bowl for your family!
Need More Family Resources?

Reflect on how one family encounters Lent in the video below.