Thank you for journeying with us throughout Lent! Given the realities of COVID-19 and that communities are unable to physically collect CRS Rice Bowls, participants can submit their CRS Rice Bowl gifts online, by phone or mail. During this difficult time, every contribution will help those most in need in your local diocese and around the world. No matter how you choose to give, 25% of your donation goes back to your local diocese to support hunger and poverty alleviation efforts.
Get Started
If your diocese is hosting the CRS Speakers Tour this Lent, you can find resources here.

Communication Tools
Download and adapt the following letters to send to parish or school communities, or send a letter on behalf of your bishop.

Thank You Resources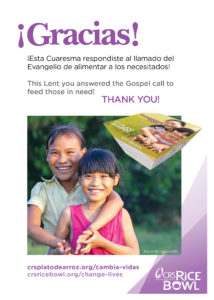 Thank You Ads:

Revenue & Reporting
Informing faith communities how your (arch)diocese intends to collect and submit CRS Rice Bowl donations is crucial to a successful end to Lent — and guarantees that participants' donations get to those most in need quickly.
Collecting CRS Rice Bowls
Revenue Reporting Process
Submitting a revenue report is a mandatory step to completing the CRS Rice Bowl experience in your (arch)diocese. This process is done entirely online at the link below; you will receive a receipt via email once you have successfully submitted your form. The form is due August 31.
Overview Webinar: This brief webinar walks diocesan staff through the process.
Revenue Reporting Form: For diocesan offices only, this is the form to complete to inform CRS HQ of your diocese's donations.
Managing the Local 25%
25% of every CRS Rice Bowl donation stays in your local (arch)diocese. These tools will help explain the process.