Communication Revenue & Reporting Thank You Resources

The resources below will help you get started with CRS Rice Bowl in your diocese. Or, click on one of the buttons above to jump right to what you need.
Get Started
If your diocese is hosting the CRS Speakers Tour this Lent, you find resources here.

Communication Tools
Download and adapt the following letters to send to parish or school communities, or send a letter on behalf of your bishop.

Thank You Resources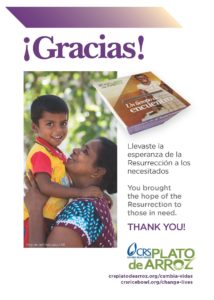 Thank You Ads:
Don't forget to share our Thank You video! (Also available in Spanish.)
Eastern Catholic Lenten Calendars
If you have Eastern Catholics in your diocese, or if you are a member of an Eastern Catholic eparchy, incorporate CRS Rice Bowl into your Lenten practice with these modified calendars, prepared by CRS Global Fellow Deacon Charles Rohrbacher of the Diocese of Juneau.

Revenue & Reporting
Collecting CRS Rice Bowls
Informing faith communities how your (arch)diocese intends to collect and submit CRS Rice Bowl donations is crucial to a successful end to Lent — and guarantees that participants' donations get to those most in need quickly.
Revenue Reporting Process
Submitting a revenue report is a mandatory step to completing the CRS Rice Bowl experience in your (arch)diocese. This process is done entirely online at the link below; you will receive a receipt via email once you have successfully submitted your form. The form is due August 31.
Overview Webinar: This brief webinar walks diocesan staff through the process.
Revenue Reporting Form: For diocesan offices only, this is the form to complete to inform CRS HQ of your diocese's donations.
Managing the Local 25%
25% of every CRS Rice Bowl donation stays in your local (arch)diocese. These tools will help explain the process.