"The Good News is no mere matter of words: it is about leaving ourselves behind and encountering others." – Pope Francis
Lent is a time of encounter.
Through prayer, we encounter Christ, present in the face of every member of our human family.
Through fasting, we encounter the obstacles that prevent us from loving God and neighbor.
Through almsgiving, we encounter our brothers and sisters around the world, sharing God's gifts with others.
The following Lenten reflections are your guide. Through them, you and your faith-sharing community will encounter Christ in those who are suffering, those who are marginalized and throughout creation. You will encounter Christ in your own prayer, too. And after the 40 days of Lent, you will be prepared to encounter the risen Christ.
By clicking on the links below, you'll find five Lenten reflections as modules with prayers, activities and questions that will help you unpack the idea of building a culture of encounter—a central theme to Pope Francis' papacy. Use the modules each week, or pick and choose the modules or features that are most helpful to you and your community's Lenten journey.
Encounter the Suffering Christ
Encounter the Marginalized Christ
Encounter ourselves. Encounter our neighbors. Encounter our God. Encounter Lent.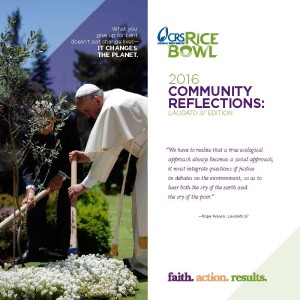 Download and print a copy of the             CRS Rice Bowl Community Reflections: Encounter Lent. And, if you want even more material for your faith-sharing community, check out last year's CRS Rice Bowl Community Reflections: Laudato Si' Edition, centered on Pope Francis' Laudato Si'.