Pupusas de Queso con Curtido y Salsa Roja Recipe – El Salvador
Pupusas de Queso con Curtido y Salsa Roja Recipe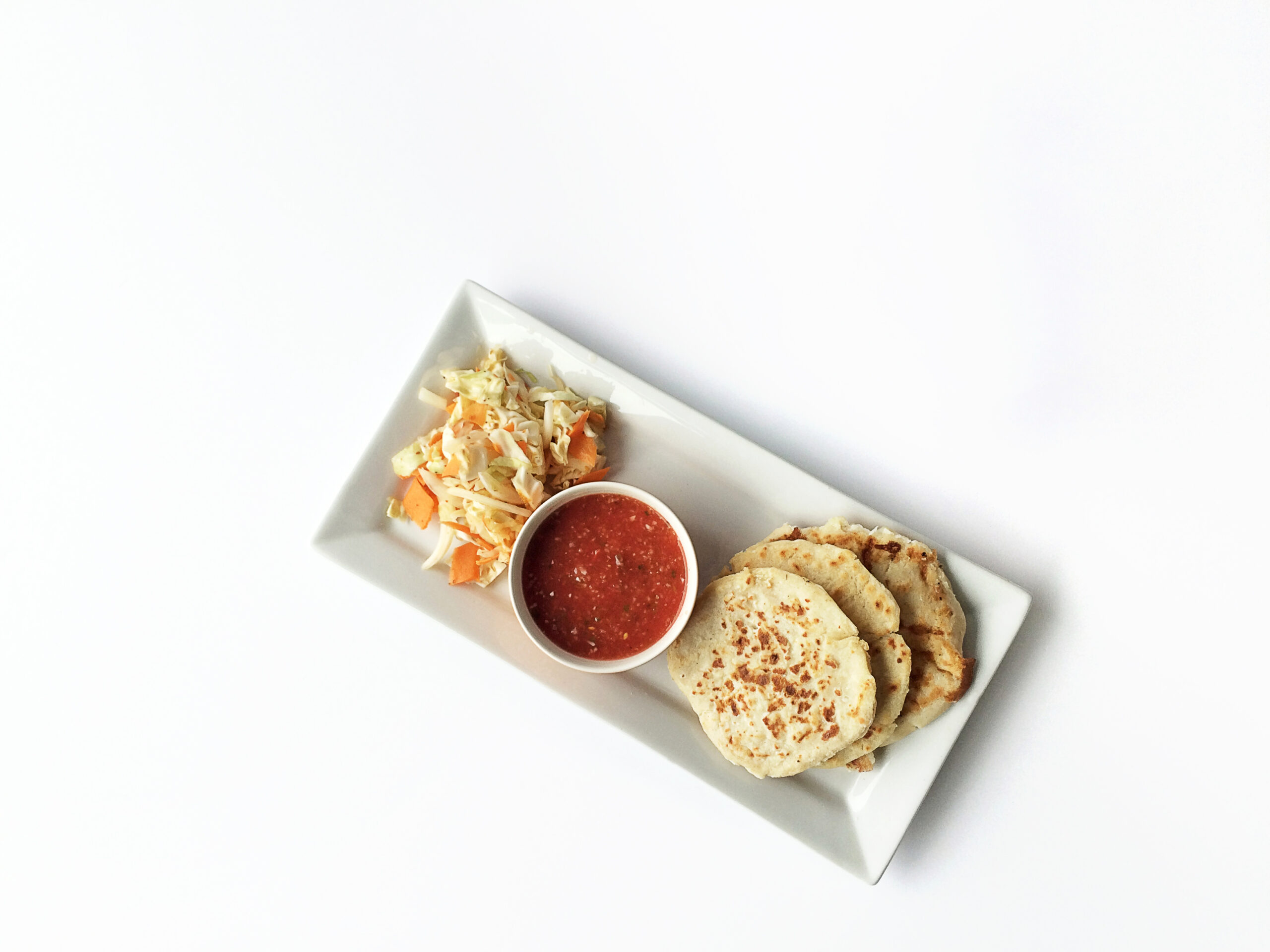 Curtido
½ head of cabbage, shredded
1 large carrot, grated
½ medium yellow onion, thinly sliced
½ c vinegar
¼ c water
½ t salt
1 t dried oregano
½ to 1 t red pepper flakes
Salsa Roja
3 medium tomatoes, chopped, or 1 15-oz can of tomatoes
¼ c onion, chopped
1 clove garlic, chopped
1 small jalapeño pepper, seeded and chopped
¼ c cilantro, chopped
1 t dried oregano
½ c water
Pupusas
2 c maseca
1 pinch of salt
1½ c water
1 c queso fresco or farmer's cheese, grated
1 T fair trade olive oil
Curtido: Combine the cabbage, carrot and onion in a large bowl. In a separate bowl, mix in remaining ingredients. Pour over the cabbage mixture and stir. Refrigerate for at least 2 hours, preferably 1 day before serving.
Salsa Roja: Combine all ingredients except water in a blender. Add half a cup of water and blend until smooth. Add more water as needed to make salsa smooth.
Pupusas: Combine the masa harina, salt and water in a mixing bowl. Knead to form a smooth, moist dough with a playdough-like consistency. If the mixture is too dry, gradually add more water. If it is too sticky, gradually add more masa harina.
Using wet hands, form the dough into 8 balls about 2 inches in diameter. Using your thumb, make an indentation into one of the balls, forming a small cup, and fill with 1 tablespoon of cheese. Wrap the dough to seal the cheese. Pat the dough to form a round disk about a quarter inch thick. Repeat with the remaining dough.
Heat a lightly oiled skillet over medium-high heat. Cook the pupusas on each side until golden brown. Serve warm with curtido and salsa roja.
Makes 8 pupusas