Cheese Empanadas With Beans – Colombia
A Reflection on Eating Simply
by Michele Faehnle
Growing up, Lent was one of my least favorite times of the year.  Our family always gave up sweets, practiced extra devotions like the Stations of the Cross, and of course, did the traditional fasting and abstinence requested by the Church.  Now, as an adult, I've come to love the opportunity Lent provides to reset my spiritual life.
This Lenten season, during the Year of Mercy, our family is especially trying to live out the Corporal and Spiritual Works of Mercy that Pope Francis has asked us to rediscover. Therefore, I was delighted to take part in this special project for Catholic Relief Services.  The practice of making a simple, meatless meal and donating the money that it saves is such a valuable concept, particularly since it's something my children can tangibly participate in and understand.
I had never made Empanadas before and serving up a new recipe with my picky kids can be daunting.  However, these crispy pastry shells stuffed with soft, milky, and mild cheese were a huge hit!  After serving them up with warm, spicy-sweet beans, everyone was a member of the clean plate club that night.  I especially liked this recipe because, aside from the queso fresco cheese (which is readily available at any grocery store), most of the ingredients were staples in my pantry.  The dough was so easy to make that my 10-year-old was able to help and one batch was more that enough to feed my family of six plus leave some leftovers. Needless to say, it left both our mouths and stomachs satisfied.
The bean recipe was also delicious.  I wouldn't normally serve beans as a side dish since my husband and kids don't prefer them, but the addition of cumin had everyone asking for more.  Even my 19-month-old ate a whole bowl!
Overall, I would give this recipe an A+ and plan for it to go into regular rotation in my menu planning. If you are not a regular dough maker, I would just suggest a few helpful tips:
Sticky dough is a disaster: Make sure your dough is not too wet, or you will have trouble with it sticking to everything. Remember, flour is your friend. Add it in one tablespoon at a time if your dough is too tacky and you have difficulty rolling it out.
Roll it thin: Keeping your dough thin will allow for a crispy outside and well-cooked inside.  Thick dough is more difficult to cook thoroughly without burning the outside and leaving the inside raw.  A rolling pin can be a very useful tool if you have one!
Seal the edges of your empanada by pressing firmly down with your fingertips. If you don't make a seal, your cheese will leak out the edges.
Recipe
from CRS staff in Colombia
Empanadas
2 c flour
2 T vegetable shortening
1 t baking powder
1 c cold water mixed with 1 t salt
12 oz queso fresco or farmer's cheese, shredded
4 T fair trade olive oil
Beans
2 16-oz cans of kidney beans, drained
1 onion, diced
1 red bell pepper, chopped
1 t cumin
Cilantro (for garnish)
Empanadas: Mix the flour, shortening, baking powder and salted water in a medium-sized bowl. Knead until combined. On a floured surface, form dough into a roll. Cut into 6 to 8 equal pieces. Flatten each piece into a circle about 5 inches in diameter. Place about a tablespoon of cheese on one half of the circle and fold the other half of the dough over the cheese, making sure to seal the cheese inside.
Add oil to a large pan and heat until very hot. Place one empanada in the pan. Once the bottom is browned, turn over to cook the other side. Remove from pan and place on a paper towel to absorb the extra oil. Repeat with the other pieces of dough.
Beans: In a separate pan, sauté the onion and bell pepper with oil. Add the beans and cumin until warm. Garnish with cilantro.
Makes 6‒8 empanadas
Download all our recipe cards (horizontal / vertical)  here!
About the Author: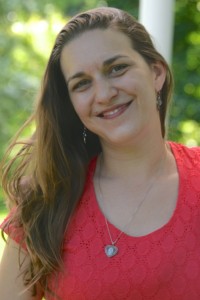 Michele Faehnle is the co-author of Divine Mercy for Moms: Sharing the Lessons of St. Faustina and the co-director of the Columbus Catholic Women's Conference.  She and her husband, Matthew, have four children and live in Columbus, Ohio.  You can read more of her work at www.divinemercyformoms.com.  For more of her favorite recipes, visit her personal blog: www.michelejoan.com