Pakistan
Meet Ismael, a village leader in Pakistan working with Catholic Relief Services to bring clean water to his community.
Ismael
Visit Pakistan and see the vital difference that access to clean water makes to health and livelihoods.
Photo by CRS Pakistan
VIEW THE PHOTO GALLERY
EXPERIENCE THESE STORIES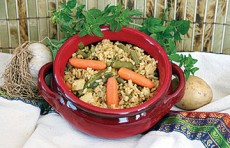 Recipe From Pakistan: Mixed Vegetable Tihari
Makes 4-5 servings
Tihari is a flavorful, traditional rice dish.
Catholic social teaching focus:
Care for God's Creation
We are called to be good stewards of what has been entrusted to us. Through protecting the environment in which we live, we respect the goodness of nature, a gift God has given to us.
Ismael's Story
My name is Ismael and I live in a small village in Pakistan with my wife and our 9 children. Our village had no source of clean water — the nearest drinking water was more than a mile away. Having to walk so far to collect water meant time away from our livestock and fields. CRS came to our community and helped us build a water pump right in the village. I myself worked on the project, helping to dig the trench for the pipeline.
The water pump in our village brings many benefits both for our whole community and for my family. Building the water pump helped unite the families in our village. Now we work together to help each other solve our problems. Because we can easily get clean water from our village pump, my family is able to raise more animals. I can also grow vegetables in a small garden near our house. With more food from our garden and more animals on our farm, I can provide a better life for my wife and children. We thank God for CRS and for the gift of life-giving water.
Reflection
In your prayer this week, reflect on the ways that God has invited you to bend low in humility to learn important truths about yourself and the world. How has God been waiting for you in places you did not want to explore? Read more.
Facts to Consider
In Pakistan, CRS works with local partners to ensure that communities have access to clean, safe water sources for both domestic and livelihood use.
Domestic use (water supply, sanitation and hygiene) — CRS helps communities access clean water through the installation and repair of hand pumps, water storage tanks and water ponds. The installation of latrines in the community also helps to raise awareness about the importance of good hygiene practices.
Productive use (livelihoods, irrigation, home gardens, electricity) — CRS helps communities to rehabilitate and reconstruct flood-damaged irrigation systems, which help farmers to improve their crop yields and support their families.
Environmental use (watershed management, water conservation) — CRS helps communities to improve water infrastructures and use water more efficiently in their agricultural and livestock practices, by introducing new irrigation methods and drought-resistant crops.
Emergency use — Following the 2011 floods in Pakistan, CRS distributed hygiene kits and clean water provisions to families affected by the emergency.
By ensuring that their water consumption is as efficient as possible, farmers in Pakistan are protecting and preserving the environment for themselves and for future generations.