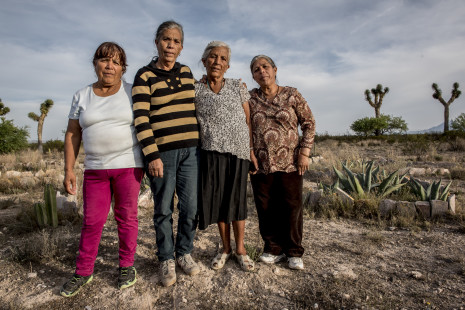 Call to Family, Community and Participation
Catholic social teaching inspires and guides how we are to live and work in the world. In this principle, Call to Family, Community and Participation, we remember that human beings are social by nature-we need each other. We, like the early disciples, are called to come together and grow as a community-whether that community is in our classroom, workplace or family.
Encounter Maria
Maria de la Luz Lugo Martínez remembers what it was like growing up in Ejido Hidalgo, Mexico. "We said we were rich because we had a lot of corn, beans and animals." But now, with few jobs and even less rain, young people—including Maria's children—are leaving the community in search of a better life.
To help families like Maria's, CRS launched a greenhouse project empowering women with meaningful work and community. Women visit their community greenhouses to grow cactuses to sell—but they also go for so much more. "At the greenhouses, we laugh, we talk, we spend time together. Sometimes we leave our homes angry or sad. But then we start working with the plants, and we forget. Talking, laughing—we forget our problems for a while," says Maria.
As the cactuses grow, so to do the economic opportunities. "We didn't believe we were going to get that far. It's a lot of joy, a lot of excitement to see so many plants flowering."
The flourishing cactuses aren't the only things that give Maria pride. Even though they live far away, she still remains close to her family. "I give thanks to God that he gave me all my children and grandchildren," she says. "They give me strength and courage to work hard. My children call and say, 'Don't give up, Mom. Have faith in God.'"
Learn more about CRS' work in Mexico.
Try our simple meal from Mexico: Arroz Rojo.