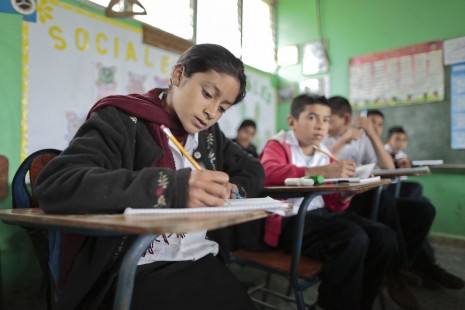 Call to Family, Community and Participation
Catholic social teaching inspires and guides how we are to live and work in the world. In this principle, Call to Family, Community and Participation, we remember that human beings are social by nature-we need each other. We, like the early disciples, are called to come together and grow as a community-whether that community is in our classroom, workplace or family.
Mayra's story
Two years ago, Mayra was not a star student. She was very shy in the classroom and struggled with simple math and reading lessons. She often missed homework assignments and, some days, did not go to school.
Her teacher noticed and enrolled Mayra in the school's tutoring program. In the months that followed, Mayra and Fabricio, her tutor and classmate, spent many afternoons practicing reading and writing stories together. They made up games to practice math. And when they were done, they jumped rope and played in their neighborhood. In the process, the two became good friends.
"Fabricio never looked down on me because I had trouble learning," says Mayra. "He always treated me well."  
The extra attention was what Mayra really needed. She lives with her grandmother, Lucia, who works hard to take care of Mayra. She picks coffee on a nearby farm and does laundry to earn money to put food on the table. But this means she doesn't always have time to help Mayra with her school work. In fact, like many people her age, Lucia cannot read.  
That's why Fabricio's help was so important. Today, Mayra is proud of her reading and math skills. She does her homework and goes to class on time. She is more confident and has a new group of friends.
Mayra wants to be a teacher one day. But first, she will become a tutor so she can help her classmates-just as Fabricio helped her.
Learn more about CRS' work in Honduras.
Try our featured recipe from Honduras: Bean Soup with Chayote Squash and Rice.