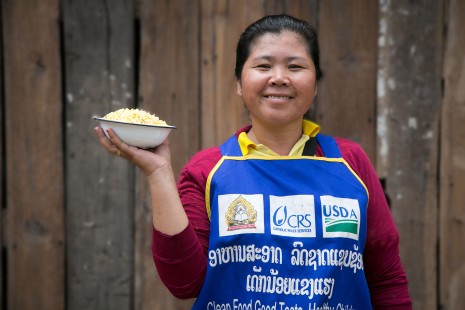 Rights and Responsibilities
Catholic social teaching inspires and guides how we are to live and work in the world. In this principle, Rights and Responsibilities, we remember that, as human beings, we have the rights to live and grow in peace. Because we have that right, we have the responsibility to make sure others, too, enjoy the same opportunity.
Hongkham's story
Hongkham lives close to where she grew up in Nongdeune, Laos, with her husband and their five boys. Her husband is a farmer, and her family relied on his crops for food and income. When Hongkham's husband got sick, the family had to sell a lot of what they owned-including their land-to pay for medicine. Soon, the family faced real hunger.
Then Hongkham found an opportunity to use her love of cooking to help her family and community through CRS' school literacy and hunger program. She volunteers as a cook at her children's school, which provides free school lunches for students, literacy training for teachers and principals, and nutrition training. Hongkham uses that training in the school kitchen-and when she's cooking for her family at home.
She also receives a monthly ration of food to take home, which helps her family grow and thrive. But the best part about CRS' program is that students are learning to read and write. Hongkham says that before the program started, students would go home and often wouldn't return for afternoon classes, but now, students return to school after morning classes to receive their free and nutritious lunch. She even sees the change in her own children-in their studies and their health.
Good nutrition has made a real difference in the lives of the people of Laos.
Learn more about CRS' work in Laos.
Try our featured recipe from Laos: Kao Phiak Saui Tua Leuang.