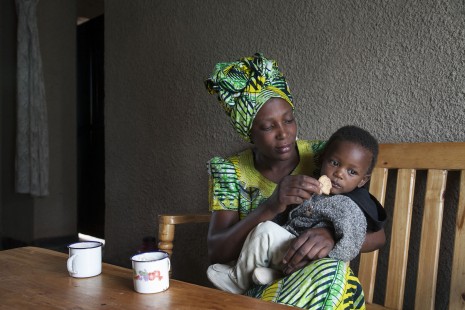 Sacredness and Dignity of the Human Person
Catholic social teaching inspires and guides how we are to live and work in the world. In this principle, Sacredness and Dignity of the Human Person, we remember that, when God created us, he made us in his image and likeness. That means that every human being has a special value and purpose. We need to care for each other so that we can be the people God calls us to be.
Odette's story
Odette's daughter Olga could have easily become one of the many children in Rwanda who don't receive the nutrients they need to develop and grow.
But Odette started working with Catholic Relief Services even before she gave birth to ensure her child would get the care she needed during the crucial first 1,000 days of life. The nutrition a child receives from the time he or she is in the womb until his or her second birthday can mean the difference between a promising future and one of poor health and limited opportunities.
Catholic Relief Services is working with communities in Rwanda to end child malnutrition by supporting health and nutrition programs, and teaching families to grow crops that add nutritious variety to their meals.  
Because poverty is a major cause of malnutrition, CRS helps families find opportunities to earn an income. With a loan from her microfinance group, Odette started a business selling agricultural fertilizer so she could support her family.
Odette attends weekly classes that are helping her grow healthy crops on her farm. She's also taking courses on how to prepare nutritious meals from those crops. And she takes Olga to regular well-baby visits to measure her weight and growth, and ensure she is healthy.
This year, Olga will reach a milestone: Her second birthday. Because Odette has been feeding her a variety of nutritious foods-many of which were grown in the family garden-Olga is growing up strong and healthy.
Learn more about CRS' work in Rwanda.
Try our featured recipe from Rwanda: Kawunga.