East Timor
Meet Ana Correia, a health care volunteer working with Catholic Relief Services to stop the spread of tuberculosis in East Timor.
Photo by Kim Pozniak/CRS
Ana Correia
Visit East Timor and learn how CRS-supported health programs are making a difference in rural communities.
Photo by Jennifer Hardy/CRS
VIEW THE PHOTO GALLERY
EXPERIENCE THESE STORIES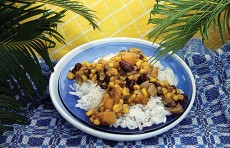 Recipe from East Timor: Batar Da'an
Makes 5-6 servings 
A popular dish from East Timor made with corn, beans and squash.
Catholic social teaching focus:
Community and Participation
Human beings are not only sacred, but also social. How we participate in our families and communities, from our daily actions to our policy decisions, affects each and every person.
Ana's Story
My name is Ana Correia and I live in East Timor, an island nation near Australia. I'm a volunteer at Klibur Domin, a TB clinic supported by CRS. I volunteer for many reasons. It's important to help people and to stop the spread of TB. But I am happiest with the opportunity to learn new things. I couldn't stay in school as long as I wanted to, so volunteering gives me the chance to keep learning and to help others with my knowledge.
TB is a very serious problem in East Timor. The disease is easily spread among people living in houses with poor ventilation, which are common in our rural villages. As a volunteer, I walk long distances to different communities so I can share information about preventing and treating TB. Throughout my years of volunteering, I have identified many positive cases of TB and helped patients get the medical care they need. Last year, CRS had an award ceremony for volunteers. At the ceremony, CRS gave me and my fellow volunteers cell phones. My phone will make it easier for me to contact the clinic when I find potential TB cases in remote villages. I love volunteering and never want to stop learning. I'm 25 years old now, and I want to continue learning and helping my community when I am a grandmother and even a great-grandmother.
Reflection
In your prayer this week, reflect on a time when your vision was clear and you had a good idea of what God was calling you to do or to be. Is that vision still in place? Does it affect your daily life? Consider how, this Lent, you can make this vision even stronger. Read more.
Facts to Consider
In East Timor, CRS' partner Klibur Domin provides testing, treatment, nutritional support and volunteer education networks to the community in order to stop the spread of TB. This treatment center strives to engage the entire community so that everyone has ownership of their own health and wellness.
Much of the Timorese population has limited awareness of the cause, symptoms and curability of TB.
TB spreads quickly in closed, confined spaces.
CRS is working with health centers, prisons, boarding schools and orphanages in East Timor to help reduce the incidence and burden of TB using several strategies:

Advocate, Communicate and Mobilize — CRS helped develop a media campaign encouraging rural populations to look for signs and symptoms of TB.
Community-Based Care — CRS provides training to local community health partners to help monitor the treatment of TB patients.
Capacity Strengthening — CRS helps to train local partner organizations in financial and human resource management so that community-based care is as efficient and effective as possible.