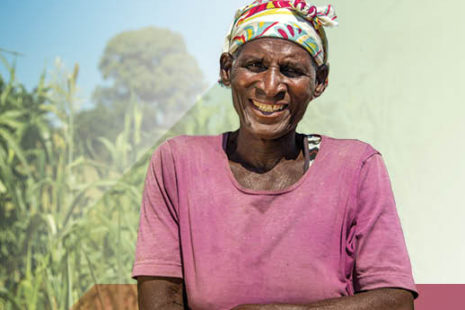 Option for the Poor and Vulnerable
Catholic social teaching inspires and guides how we are to live and work in the world. In this principle, Option for the Poor and Vulnerable, Jesus tells us to give special care to those who are most in need. He reminds us of our Christian duty to listen closely to those who often go unheard and to help those most vulnerable.
Encounter Alefa
Alefa is a mother, grandmother and farmer. She provides for her three children, three grandchildren and husband by selling her crops. If they fail during one of Malawi's rainy seasons—or in a drought—her family goes hungry. One particularly difficult year, Alefa was forced to sell some of her land to make ends meet.
She knew she had to start planting crops that could withstand Malawi's changing climate. So, she attended a CRS-sponsored seed fair, where farmers learn the best crops to plant for the upcoming year, and receive vouchers so they can choose the seeds and supplies they need. Besides rice, Alefa bought corn, cabbage and tomato seeds. This way, she can continue farming rice but also feel confident that, even if her rice fails, she will have other crops to sell.
"This harvest will provide food, shelter and education for my family," she says. In a few short months, Alefa will be growing corn and harvesting hope.
Learn more about CRS' work in Malawi.
Try our simple meal from Malawi: Ujeni Ndiwo.