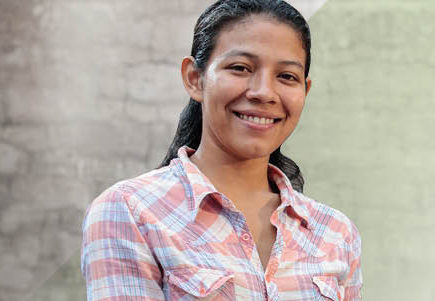 Dignity of Work and Rights of Workers
Catholic social teaching inspires and guides how we are to live and work in the world. In this principle, Dignity of Work and Rights of Workers, we remember that, Jesus spent years working as a carpenter. Work is important to help people fulfill their potential. And everyone must receive a fair wage to provide for themselves and their families.
Encounter Cesia
Cesia Lea Gomez is from the rural town of Somoto, Nicaragua, close to the Honduran border. Although it is a beautiful farming community, there are few job opportunities for young people, especially women. Many leave their communities to find work, but Cesia wanted to stay home with her parents and youngest sibling. With her mother's encouragement, Cesia decided to pursue her dream of starting a business.
The CRS YouthBuild program helped her achieve that dream. YouthBuild's core values—family, service, opportunity and leadership—guide what participants learn, and the kinds of relationships they build with one another. The program helps them build the confidence to pursue their goals.
Once very shy, Cesia is now a leader in her community. With what she learned in YouthBuild, she has built a thriving business making and selling cattle feed. She dreams of expanding her business throughout Nicaragua, and leads workshops in her community to help other young people.
Learn more about CRS' work in Nicaragua.
Try our simple meal from Nicaragua: Sopa de queso.