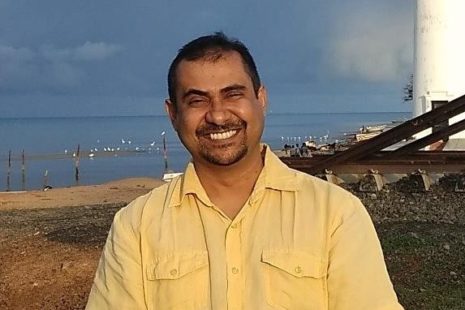 Sri Lanka continues to recover from a decades-long war and the devastating effects of recurrent natural disasters, including the 2004 tsunami. Catholic Relief Services' work in the country has focused on rebuilding after natural disasters and helping those displaced by war. The conflict left thousands of people with no food, home or way to rebuild their lives. CRS and its partners support returnees by strengthening agriculture livelihoods, training in employable skills, reducing sexual and gender-based violence, and obtaining civil documents.
Sajith Silva
Decades of civil war forced many to flee Sri Lanka. When the war ended in 2009, people returned to their villages and cities, unsure of what they would find. Although returning home should be a reason to rejoice, for many, being back meant starting from scratch—where they used to live, they found nothing but ruins; where they used to farm, they found landmines.
Sajith Silva's desire to bring hope to vulnerable people brought him to Catholic Relief Services (CRS) two years ago. He is the Program Coordinator for the Assistive Devices Project, which offers services for people disabled due to the civil war, and loves interacting with people and sharing their stories. He lives in Kelaniya, a city approximately 6 miles from Colombo, the capital of Sri Lanka, with his wife, two children and in-laws.
Sajith can't imagine his children not having a place to call home or being close to family. He believes it's essential to help refugees and, if they wish, help them return to their country of origin and rebuild their own homes.
"We as the followers of Christ have a responsibility and commitment to help and empathize with refugees in their hour of need," he says. "Only by doing so, can we heal this world."
As a program coordinator, Sajith witnesses how CRS' work transforms attitudes and lives through people like Christyan, a farmer who returned to Sri Lanka after living in India for 16 years only to find his home in shambles. But, with CRS support, Christyan gained technical farming knowledge, and now grows pumpkins and groundnuts, providing enough for his family. "I am able to educate my three kids and help them achieve their desired goals," he says. "CRS assisted me to rebuild my home, a happy home." Seeing families starting a new life is what motivates Sajith to continue CRS' work and advocate for the refugees of Sri Lanka.
To learn more about the country or to hear personal accounts of CRS' work in Sri Lanka, check out CRS in Sri Lanka and the CRS Rice Bowl Story of Hope.