When Mark Bouchard first came up with his idea for a luncheon to begin the Lenten season with CRS Rice Bowl in Louisville, KY, he knew he had a tough sell on his hands.
After all, he was asking one of his city's Catholic schools to hand over its gym to a few hundred students – from elementary to high school age – as well as other invited guests, who would all arrive and depart in the middle of a school day. What could be disruptive about that?
"I got a high school to agree to host that first one, Mercy Academy here in Louisville," said Bouchard who works for Catholic Charities. "We had people from about 28 or 29 schools, four or five from each, plus resettled refugees from the area, teachers, people from Catholic Charities and the archdiocese."

The idea was, as Bouchard put it, "To connect the dots, making folks aware of the local-global connection."
Each table had a group of students and a refugee. "The students shared a pizza and had a conversation with their refugee brothers and sisters," Bouchard said. Simple, but profound.
That was five years ago. Now Bouchard is having no problem getting Catholic schools in Louisville to host the lunch. There's practically a waiting list.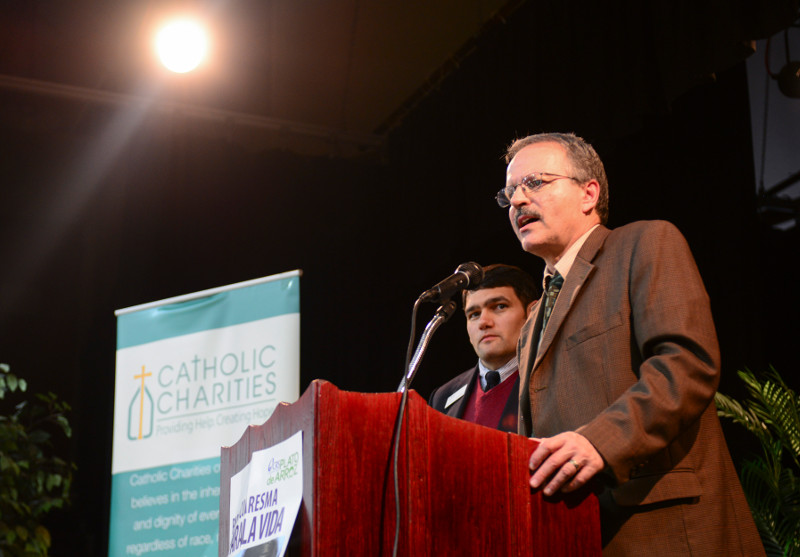 "I'm booked out for the next two years," he said. "Now it's first-come, first-serve. That's been really crazy to watch."
The luncheon turned out to have an appeal that went beyond Bouchard's wildest dreams. By "connecting the dots," the event, as he put it, is "like a poster on 'solidarity with those in need' come alive."
Louisville's Archbishop Kurtz agreed.
"This luncheon is a theologically sound way for young people, and their leaders and teachers, to become part of a wonderful ministry that also deepens the understanding of Church teaching," he said. "It helps each of us to become, as Pope Francis has said, a 'missionary disciple.'"
Though the luncheon has grown and there are more events connected with it – such as a simulated refugee camp – the core idea has remained unchanged: to link students with refugees who live in Louisville, refugees who have been helped in their resettlement by Catholic Charities.
Bouchard said he and many others saw clearly the excellence of CRS in international relief and development and Catholic Charities here at home. Those were the two big dots that needed to be connected.
"I just couldn't see us moving anywhere without cross pollinating our local and global concepts of solidarity. I knew we'd be missing the boat if we can't and don't do that. We claim to be a global Church. This was a way to set out and prove that."
Another dot was connected by this year's luncheon. CRS President Sean Callahan was the guest speaker and, while he was in town, Archbishop Kurtz arranged a meeting with Kentucky Senator Mitch McConnell, Majority Leader of the U.S. Senate. They talked about the need to continue aid programs that help these refugees and others targeted by food programs supported by CRS Rice Bowl.
Bouchard said that, though it was not the goal, since the luncheon began donations have significantly increased.
"They've gone up for refugee work locally and they've gone up for Rice Bowl," he said. "So it's a win-win, with no separation of the local-global concept."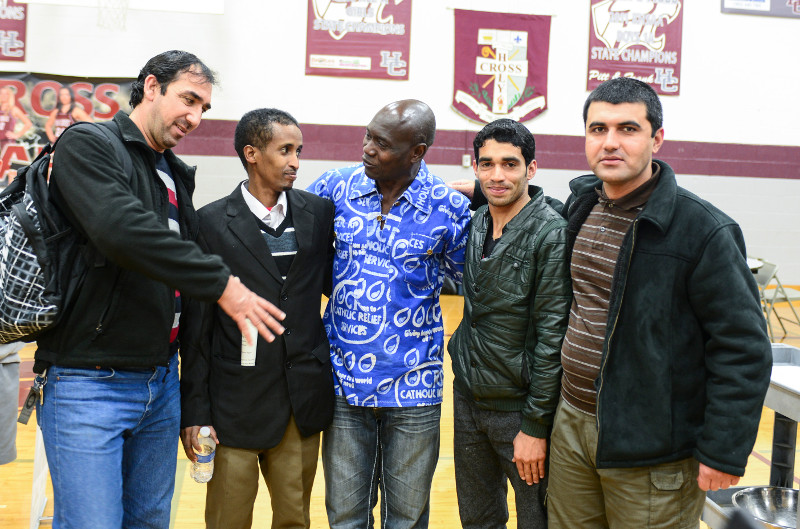 Archbishop Kurtz agreed. "This is very much a part of renewing vitality in the parishes," he said. "It integrates the work of Catholic Charities and CRS, work that puts a face on the call that Jesus gives us to serve people."
Mary Waskevich can testify to the power of the luncheon which now kicks off a wide variety of events that support the missions of CRS Rice Bowl and Catholic Charities. A 7th and 8th grade teacher of English and Religion at St. Stephen Martyr School in Louisville, she has seen the impact it has had on her students.
"It just had a wonderful effect," she said. "You know, you really have to teach empathy. And when they hear the stories from these refugees, they really get a sense of what is going on. When they first sit down for lunch, my students might be reluctant to talk, but then they start and open up and they come back to class with all sorts of stories."
Waskevich has used the event as the launching pad for a number of activities. For instance, her students have researched and made presentations on the CRS Rice Bowl countries at the luncheon. Her students are guides in the simulated refugee camp. They make recipes from the CRS Rice Bowl countries. They have interviewed refugees and written up their stories. They have collected school supplies for refugee schoolchildren. The list goes on.
"At the lunch, they put a cardboard Rice Bowl on each table, really just as a display, but my students noticed that the only people who put money in it were the refugees," she said. "That really made an impression on them.
"We always say to look for the face of Christ in others," Waskevich said of teaching the lessons learned from the luncheon. "I tell my students that I want to see the face of Christ in their faces."
---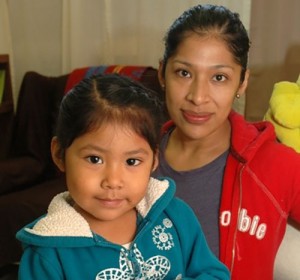 Centro Latino, a Catholic Charities-supported nonprofit, works with the Latino community in the Archdiocese of Louisville, Kentucky. Centro Latino distributes food and clothing, and provides educational opportunities. But Centro Latino also recognizes the importance of community and stability.
"We need each other," says Ursuline Sister Lee Kirchner, who volunteers at the Centro's monthly women's meetings, offering reflections for gatherings of more than 100 women. "That's what we're trying to do: build a community among ourselves.ˮ
Katalina has attended the meetings for 3 years. The community has supported her in learning English and inspired her to give back. She and other women volunteer at Centro Latino's food distribution center, assist in their local parishes and, of course, work with their peers in the women's meetings. Shelby County is better because of the work these women do.
"When I first started leading these reflections, many women hardly said anything,ˮ Sister Lee recalls. "Now, so many have opened up with the most beautiful observations, with their desires to improve—not just themselves, but their community.ˮ
For Centro Latino, this is the kind of work that has the most lasting impact.