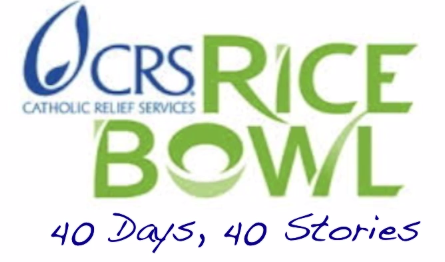 40 Days, 40 Stories
Tell your Lenten story in 2 minutes or less.
CRS Rice Bowl on your campus
When Giving Up Means Doing More
A reflection by Mackenzie Harris, Cabrini College Student
"I have never participated in Lent before. I always thought it was this time of year when everyone just gave up soda and chocolate for no reason and I never really understood the importance behind it. I never celebrated Lent before because I never understood why giving up something unnecessary that we have was important to do. But for the first time in my life, I have been participating in the Catholic Relief Services Rice Bowl. This, for me, was not just about just giving something up; it was about taking something on…" Continue Reading.
Today's Story
Day 31: St. Mary's University from Rice Bowl: 40 Days, 40 Stories on Vimeo.
Enter your Lenten story
Throughout the 40 days of Lent, we are featuring 40 stories from university students who are living their faith. Learn more and ENTER your story NOW!  
What else is new?
Hear from University students using CRS Rice Bowl on their campus this Lent! Watch the 2014 Lenten kickoff Google hangout (Feb. 10, 2014)