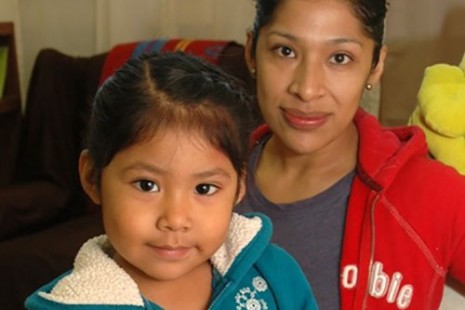 Global Solidarity
Catholic social teaching inspires and guides how we are to live and work in the world. In this principle, Global Solidarity, Jesus tells us to love our neighbors, even though they may be different than us. That means the neighbors who live next door and also those who live on the other side of the planet. Jesus reminds us that we are all part of God's great family.
The Story of Centro Latino
Centro Latino, a Catholic Charities-supported non-profit, works alongside the Latino population in the Archdiocese of Louisville, Kentucky. That work includes what you may expect: distributing food and clothing, and providing opportunities for education. But Centro Latino also recognizes the importance of community-and stability.  
"We need each other," says Ursuline Sister Lee Kirchner. Sr. Lee volunteers at the monthly Women's Meetings, offering reflections for the more than 100 women that gather. "That's what we're trying to do: build a community among ourselves."
For women like Katalina, a three-year attendee of these meetings, the community has given her more than the support she needed to learn English; it serves as an inspiration to give back. Women from the group volunteer at Centro Latino's food distribution center, assist in their local parishes and, of course, work with their peers in the Women's Meetings. As Sr. Lee notes, Shelby County is better for the work done by these women.
"When I first started leading these reflections, many women hardly said anything," Sr. Lee recalls. "Now, so many have opened up with the most beautiful observations, with their desires to improve-not just themselves, but their community, where they are."
For Centro Latino, this is the kind of work that has the most lasting impact.