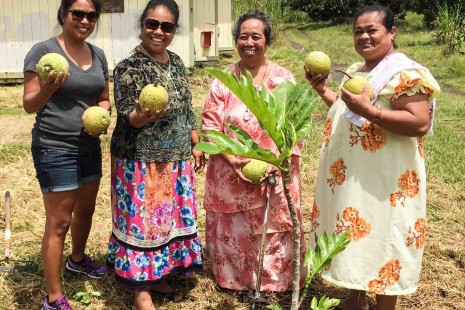 Global Solidarity
Catholic social teaching inspires and guides how we are to live and work in the world. In this principle, Global Solidarity, Jesus tells us to love our neighbors, even though they may be different than us. That means the neighbors who live next door and also those who live on the other side of the planet. Jesus reminds us that we are all part of God's great family.
Encounter Our Neighbors
You are born with breadfruit, you grow up with breadfruit and you die with breadfruit. This popular saying from the Micronesian island of Chuuk, thousands of miles off the coast of Hawaii, captures the importance of this starchy fruit. It's a staple both for the Chuukese living in Micronesia, and for people like Micaela, who were forced to migrate to Hawaii due to a changing climate and rising seas.
Though Micaela moved to Hawaii seeking a better life, she instead found a community of Chuukese struggling with hunger. Through the One 'Ohana: Food and Housing for All program, Micaela organizes groups of women to learn farming techniques. Together, they gain the knowledge to plant breadfruit trees and feed their communities.
For Micaela, the project is a way to look to the future while remembering the past. "It's been many years since I dug my hands in the ground. We are reconnecting back to our home, even though it's not the soil from where we came from," she says.
Learn more about the One 'Ohana: Food and Housing for All program.